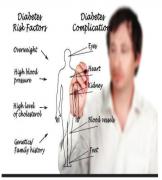 NEARLY ONE OUT OF EVERY 2 TYPE 2 DIABETIC PATIENTS HAS CHRONIC KIDNEY DISEASE (CKD), WHICH INCREASES THEIR MORTALITY TO ALMOST THREE FOLD
Chronic kidney disease (CKD) is a condition characterized by gradual loss of kidney function. Diabetes and high blood pressure are the two leading causes of chronic kidney disease and account for up to two-thirds of these cases.
India is set to become the diabetic capital of the world, with almost 7 crore Indians suffering from diabetes. By 2040 the diabetics are expected to increase to 12 crores. Of these, at least one out of every two have chronic kidney disease
.
Diabetes mellitus is more than just high blood sugar; the persistent high blood sugar levels damage the small blood vessels and capillaries (microangiopathy), the inner lining of the arterial wall (macroangiopathy), and also the nerves. This results in damage to almost all organs of the body including the kidneys and the heart. As compared to other ethnicities, diabetics who are Indian and South Asians are up to four times genetically more prone to developing severe kidney disease.
When associated with kidney and cardiovascular complications, which are preventable, both the direct and indirect costs of the treatment of diabetes increase by almost 3 to 5 times. More importantly in a diabetic patient, the associated kidney and heart complications impact the quality of life and reduce life expectancy by about 10 years on an average. Kidney diseases increase mortality by almost three fold in the diabetic patients.
In those suffering from type 2 diabetes it is important to balance the conceivable benefits of controlling high blood sugar levels on complications arising from microangiopathy and macroangiopathy with the possible side effects arising out of treatment and the possible harm from over intensive control of blood sugar levels.
Hypoglycemia (drop in blood sugar levels below normal) and weight gain are unwanted and undesirable side effects of treatment, rom the perspective of an ndividual suffering from diabetes.The older therapies, which include the sulphony ureas, insulin and glitazones are all associated with signif cant weight gain, whereas metformin is associated with slight weight loss.
Dipeptidyl peptidase-4 DPP-4) inhibitors or gliptins are a relatively new class of oral diabetes drugs.DPP 4 inhibitors are generally used as first or second ine medication for people with type 2 diabetes who do not respond well to met ormin or have high HbA1c evels. There are many DPP 4 inhibitors available in the ndian market and are generally safe to use in kidney mpairment, although the adjustment of doses accord ng to the degree of kidney impairment may be a chal enge with some molecules. Linagliptin is one of the DPP4 inhibitors that does not require dose adjustment in kidney impairment and has also got some potential data of kidney protection in type 2 diabetes. It has been hypothesized that DPP4 inhibition yields a greater benefit to South Asian populations than non-Asians. Normally, oral glucose stimulates the release of certain endogenous incretins. Incretins help stimulate the production of insulin when it is needed (e.g. after eating) and reduce the production of glucagon by the liver when it is not needed (e.g. during digestion). They also slow down digestion and decrease appetite. The incretins are rapidly inactivated by the dipeptidyl peptidase-4 (DPP 4). The DPP4 levels are supposedly higher in Indians. By protecting the incretins from damage, drugs which inhibit DPP-4, help to regulate the blood glucose levels.
This group of drugs causes neither weight gain nor weight loss. DPP4 inhibitors, being weight neutral, may help address the low BMI targets for the Indian population. The very low rates of drop in blood sugar levels below normal (hypoglycemia) are an additional advantage in vulnerable patients, such as the elderly or patients who live alone.
DPP-4 inhibitors can cause gastrointestinal problems, flulike symptoms and skin reactions. DPP-4 inhibitors have also been linked to an increased risk of pancreatitis. It is important to talk to your doctor immediately if any side effect is experienced.