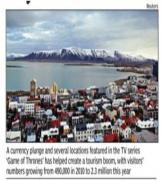 One of the world's hottest and most expensive holiday destinations could soon become a little more expensive. Overwhelmed by a record number of visitors in spite of its far-flung location, Iceland's government is considering ways of raising taxes in the tourism sector. The alternative would be to limit sightseers' access to the country's most popular spots. "The sector and all of us have to be careful not to become victims of our own success," Thordis Kolbrun Reykfjord Gylfadottir, Iceland's tourism minister, said in a recent interview in Reykjavik.
Acurrency plunge and its location for scenes featuring in the popular TV series "Game of Thrones" helped create a tourism boom, with visitors' numbers growing exponentially from 490,000 in 2010 to an estimated 2.3 million this year.That's a lot, considering Iceland's population totals less than 340,000. Tourism is now the country's main export, bringing in a forecast 45% of foreign exchange -or 560 billion kronur ($5.1 billion) -in 2017, according to Islandsbanki, the country's second-largest lender.
Still, Gylfadottir worries that overcrowding may ruin the experience for visitors and spoil natural treasures. Among the country's most popular destinations are Thingvellir, a Unesco World Heritage Site, and Jokulsarlon, an otherworldly glacier lagoon on that island's southeastern coast. "Some areas are simply unable to facilitate 1million visitors every year," Gylfadottir said. "If we allow more people into areas like that, we're losing what makes them special -unique pearls of nature that are a part of our image and of what we're selling."
The coalition government is considering a number of options. They include forcing bus companies and tour operators into buying a special license or hiking the existing levy on hotel rooms. Ministry officials say the hotel tax generated 400 million kronur in revenue in 2016 and could bring in as much as 1.2 billion kronur this year. Iceland's previous government attempted and failed to pass a bill that would have required all visitors -Icelanders and foreigners -to purchase a "nature pass"priced at $14.