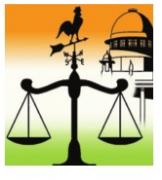 Take Steps To Raise India's Ranking In Rule Of Law Index'
Expressing concern over India's poor ranking in Rule of Law index, Chief Justice of India J S Khehar appealed on Saturday to all those involved in justice dispensation to make all-out efforts to make judicial redress accessible to all, particularly to the poor and neglected.
Justice Khehar said governments should also share the responsibility in spreading legal awareness which is currently done by National Legal Services Authority (Nalsa) and state legal services.
"I feel sad that India's rank is 66th out of 113 countries in the 2016 Rule of Law index. We should formulate policies and guidelines to lift India's ranking. We need to take steps to make justice accessible to all, particularly children, women and historically oppressed sections of society for whom justice is still a dream," he said.
"It is the duty of a state to ensure justice to all. We as judge (sic) also have responsibility to ensure that the voiceless and the vulnerable are not denied justi ce," he said.
Speaking at a seminar organised by Delhi State Legal Services Authority , Justice Khehar said the present system, where the entire focus of legal aid was on helping the accused, needed to be changed and rights of victims given due recognition.
"No accused should be unrepresented... but India is a strange country . The bigger is the offence, the bigger is the outreach of the accused to the judicial system. I have never seen accused in such cases fail to access justice. But what about victims and their families? Why should not we think about their rights. I would make an appeal, as Chief Justice of India, to reach out to them and provide them legal assistance to get compensation," he said.
Justice Khehar said Nalsa had worked exceedingly well in making justice accessible by organising lok adalats and that lakhs of cases were disposed of due to `out of court' proceedings.
Speaking on the occasion, minister of state for law and justice P P Chaudhary appreciated the efforts of legal services authorities in spreading awareness and providing legal aid. He suggested that it should be made mandatory for all lawyers to give legal aid and take up cases of the poor who could not afford to engage advocates.
He said that the government was ready to take up the administrative works of Nalsa to ease its burden.