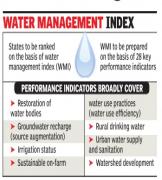 28 Indicators To Decide Performance
The Niti Aayog will soon start a process to sensitise states towards preparing a Water Management Index (WMI) which will ultimately lead the Centre's thinktank to rank them on the basis of their efforts in efficient management of water resources.
The states' performance will be judged on the basis of 28 key indicators covering water use efficiency, irrigation status, groundwater recharge, availability of drinking water for both rural and urban areas, watershed development and other sustainable practices in water-related sectors. The Niti Aayog has, in fact, developed a composite WMI as a tool to assess and further improve the performance in efficient management of water resources.Different weightage is allocated to identified performance indicators to arrive at the composite index. The final scorecard of a particular state will carry both quantitative and qualitative aspects of indicators during 2016-17.
The chief executive officer of the Aayog, Amitabh Kant, has written to states' chief secretaries, informing them about a plan to hold different workshops to sensitise and support states in preparing the index. The workshop may be held during March-April.
The WMI is one of the six indices which the Niti Aayog has introduced for ranking states. The others include health, education, energy efficiency , agricultural reforms and digital transaction.