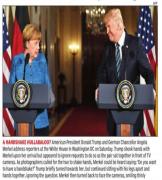 Reference To Climate Vow Also Scrapped
Finance ministers from the world's biggest economies dropped an anti-protectionist pledge and a vow on action against climate change on Saturday after Washington refused to sign up to the commitment.
After a two-day meeting, ministers from G20 developed and developing nations said they were "working to strengthen the contribution of trade to our economies", but failed to spell out a pledge to reject protectionism in a closing statement.
By comparison, last year's meeting called on them to resist "all forms" of protectionism, which can include border tariffs and rules that favour a country's businesses over those in another economy.
Wolfgang Schaeuble, the finance minister of host country Germany , sought to play down any disagreements. He told reporters after the two-day meeting that the issue was more wording than substance. Schaeuble did suggest the talks had been somewhat rocky.
The conspicuous omission came amid a push by US President Donald Trump to pursue an "America First" policy that includes penalising companies that manufacture abroad by heavily taxing their products.
Since taking office, he has withdrawn the US from a trans-Pacific free trade pact and attacked export giants China and Germany over their massive trade surplus.
References to action against climate change under the Paris accord were also scrapped from the G20 statement unlike at a previous summit last year.
The exclusion of climate marked a new setback for environmental action, activists say, after Trump proposed to take the axe to environmental financing.