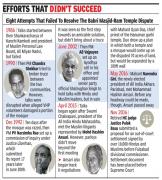 Sangh Welcomes SC Move, Says That's Been Its Stand
Welcoming the Supreme Court verdict suggesting an out of court settlement of the Ayodhya Ram mandir dispute, RSS joint general secretary Dattatreya Hasabale said here on Tuesday that the outfit will accept the decision taken by the Dharma Sansad -the umbrella body of religious bodies -in the issue.
Talking to reporters on the sidelines of the third day of the RSS' Akhil Bharatiya Prathinithi Sabha in Coimbatore, Hasabale said that it was the RSS that had been suggesting for a long time an out of court settlement or a legislation for resolving the Ram mandir dispute.
"We are in support of the Supreme Court order asking the two parties to resolve the matter through talks. RSS will support the decision that will be taken by the saints and sages who will hold talks with the other side to find a solution," said Hasabale.
Asked if RSS will place requests to the Dharma Sansad during the talks, he said, "We will not intervene in the decision-making process," adding that "the dispute should be resolved quickly".
Passing a resolution urg ing the West Bengal gov ernment to take cognisance of the violence against Hindus in the state and maintain law and order, the RSS asked the central government to intervene into the matter.
Hasabale alleged that the Hindu population in West Bengal is dwindling since India-Pakistan partition. "The Hindu population in West Bengal according to the 1951 census was 78.25% while it dropped to 70.54% in 2011," he said. "This has happened despite a lot of Hindus migrating from Bangladesh to West Bengal," he added.
While West Bengal had witnessed violence against Hindus in the past few months, Tamil Nadu too saw leaders of Hindu outfits being attacked. Reacting to this, Hasabale chose not to give a direct reply but said that the reason the national general body meeting was organised in Tamil Nadu was itself a response to these attacks.
Hasabale said that they have chalked out plans to grow in Tamil Nadu. "We have been growing in the southern parts of Tamil Nadu. We have chalked out plans for further expansion too," Hasabale said.Asked about the selection of Aditya Nath Yogi as CM for UP , Hasabale said, "The decision is a matter of the BJP. We wish him to serve the people of UP ."
RSS Muslim arm to work for consensus
After the Supreme Court suggested that the Ayodhya Ram Mandir dispute be settled through discussions, the RSS-floated Muslim Rashtriya Manch (MRM) is gearing up to build a consensus in the community. MRM's national convener Mohammed Afzal told TOI that the organisation is taking it as a golden chance for Muslims to settle the dispute amicably.
"The temple holds immense religious importance for Hindus but for Muslims it is just another mosque at the site. There are many other mosques like the Babri Masjid which are lying abandoned across the country. Muslims should come forward in building the temple at the site, instead of making it a matter of religious pride,' Afzal told TOI. MRM plans to take up the message across the country. "Meetings will be held at all state-level units and the Muslim religious leaders will be asked to come forward to help in building the temple," said Afzal. TNN