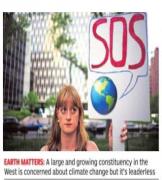 The United States' bizarre withdrawal from the Paris treaty has given Narendra Modi the very rare opportunity for global leadership.
The treaty is a voluntary agreement in which nations commit to cutting their emissions of carbon dioxide. This is to ensure that the rise in the earth's average surface temperature is not more than 2 degrees Celsius over that in 1880. Why that year? Because we started recording temperatures in earnest then, and that is around when industry began emitting large volumes of carbon dioxide, changing our climate. We are already at 1.3 degrees Celsius over 1880 and so we have 0.7 degrees to play with. What happens if we exceed that and continue man-made climate change is simple: disaster. Rising seas, unpredictable monsoons and worse.
Why is the opportunity very rare? Though we are the world's second largest nation, and soon largest, we count for little. We have no influence on anything. Usually we take the global lead in nothing. Or at least nothing that the rest of the world admires. I understand we're the world's biggest importers of weapons. This is slightly less shameful than the fact that most of us probably take pride in the fact that we are.
I will not depress readers on Sunday with a list of the other things -infant mortality , illiteracy -we're global number 1 in. These things we already know and have given up on as being intractable.
So why do I say we have the opportunity to lead on climate change? Because our contribution to global warming is significant and what we do matters not just to us but to everyone. China is the world's biggest emitter of carbon dioxide and contributes 30% of the total. America is second at 15% and India third with 7%.
Only three nations of the world are out of the Paris treaty: Nicaragua (because the treaty does not go far enough in tackling climate change), Syria (because its diplomats couldn't travel to sign it) and now the US (because, well, Trump).
And why do I say Modi has the opportunity to be the world's leader? Because it is easier for us. We Indians are culturally aligned to the issue. Foreign minister Sushma Swaraj absolutely nailed this in her response to the question of whether India was abiding by the Paris treaty for external reasons.
She said that our "commitment is 5,000 years old. We worship rivers, trees and mountains. This is India's ethos, it is our cultural heritage. If someone says we signed the pact due to lure of money and pressure from someone, it is wrong. I reject both these allegations. Whether the US stays in the agreement or not, India will stay ."
We are, like those other `Indians', the native Americans, animists and worshippers of nature. It's of course quite another matter that we pollute the things we worship. And that the non-animist nations have actually preserved their profane rivers and mountains much better than we have our sacred ones. Our commitment is mostly talk, and at best it manifests in spiritual rather than physical pursuits. However it is indisputable that we believe in it and from that emerges the opportunity to lead, because Modi will face no internal political resistance to tough decisions on coal or petrol.
The world is currently insufficiently alarmed by the danger of climate change. Climate change is not an issue in electoral politics (even in `aware' Britain, the Green Party won only 1 seat out of 650). This is because the rise in temperatures is not strictly linear. January 2017 was 0.2 degrees Celsius cooler than January 2016. But it was also the third warmest January since 1880. So the pattern is unmistakable and we are on the cusp.
India's emissions are about the same as all of Europe's.Meaning anything we can do successfully can be emulated at scale. There is a large and growing constituency in parts of Europe plus in all of America now that is concerned about climate change but is leaderless. It needs someone to come and take charge. This leader will offer her or his nation as an example and invest in innovations and take hard decisions now. Most importantly , push for climate change as a major issue, above marginal issues like jihadist terrorism.
Power minister Piyush Goyal has said that all cars sold in India by 2030 will be electric. No further details have been revealed but if this is pursued seriously , and soon, it will amaze the world.
This leader will, if she or he is credible and significant (and Modi has the chance to be both), even be able to bring pressure to bear on America because the rest of the world is united, though informally at the moment.
Indians believe in the idea of vasudhaiva kutumbakam.The world is one family , and this family is in trouble. Our planet awaits a leader. Modi has the chance for true greatness. He must step up to it.