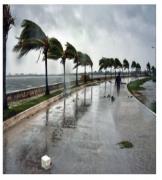 Three hurricanes--Irma, Harvey and Katia created havoc in the US back to back in the past one month. As the country limps back to normalcy, this is why and how hurricanes are named
Naming of storms is a fairly new practice and the process of assigning the names wasn't always so neat either. The reason for those names is simple: Human names are easier to remember than numbers or meteorological .jargon.
T he World Meteorologica l Organization draws up a list of names to help people and media identify the storms. Six years' worth of names have already been planned out -21 names per .year.
There aren't any names on the list that begin with Q, U, X, Y or Z because there aren't enough names that begin with these Letters.
Prior to the 1950s, Atlantic hurricanes were identified simply by the year and the order in which they occurred. This system was imperfect. So, in 1953, the US began using a list of female names ordered phonetically to better clarify which Hurricanes were coming when. Male names were .assigned to storms in 1978.
In the unlikely case that there are more hurricanes than the predetermined names in a year, hurricanes in those region of the world are named after Greek letters: Alpha, Beta, Gamma etc.
Hurricane names are also retired upon request at the annual meetings of a WMO committee when a storm has been so damaging that a future use of the name is considered insensitive. Katrina, Sandy, and Ike -exceptionally disastrous Atlantic hurricanes that affected the US .--have all been cut from the list.
The names, however are not binding. Weather centers in other countries might use a name more familiar in the regions where the storms hit; for example, a 2009 typhoon in the Pacific was known as Ketsana in Japan and Ondoy in the Philippines.