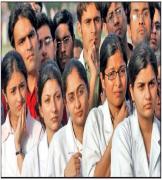 The introduction of National Eligibility Cum Entrance Test (NEET), an all India entrance exam for admissions to MBBS courses in India, has been one of the biggest reforms in medical education the country has witnessed since 1956, when the Indian Medical Council Act was enacted.
I am happy that the National Medical Commission (NMC) Bill, which seeks to replace existing Indian Medical Council Act, 1956 and is likely to be tabled in Parliament this week, has imbibed NEET.
It replaces multiple MBBS entrance exams conducted by state universities, thus providing a level playing field to aspirants across the board irrespective of educational or social background.
This was exemplified in the NEET-UG 2017 results when Navdeep Singh, son of a government school teacher from Charwan village of Mukteshwar, topped the MBBS exams. Singh fulfilled the vision that children of modest upbringing are no lesser mortals who deserve a chance.
NEXT (National Exit Test), an exit or licentiate exam that all medical graduates will have to clear to practise, is also part of the new bill. It will be treated as an entrance exam for postgraduate courses, which is good.
The proposed NMC has, however, ignored the principle of strengthening profession driven self-regulation. It has faltered by placing absolute authority in the hands of a chosen few.
The medical advisory council, where some representation is of the profession, appears toothless.
It is possible that in the near future NMC will become subservient to the health ministry, given that the representation of the medical profession in the new regulatory framework is minimal.
The proposed NMC Bill discreetly intends to equate the post-graduate degrees given by MCI or proposed NMC and the National Board of Examination (NBE), which is unjustified too.
Standards have been laid down for MCI courses, but not for NBE courses which are often run in private hospitals and nursing homes.
It is well known that doctors in private practice have limited time and exposure to teaching and research. Equating the two degrees would do disservice to the profession. Why would a teacher stay in a government run medical college if he or she can earn five times more and still be designated as a professor? It would be advisable if some serious thought is given before the burial of government-run medical colleges starts.
Similarly, NMC shouldn't open gates to overseas doctors to regularly practice medicine or perform surgery without qualifying the National Licentiate Examination or induct Ayush colleagues without clearing NEXT.
Also, the accreditation and rating function of the Medical Assessment and Rating Board (MARB) should be out of the ambit of NMC. This was also the recommendation of the Parliamentary Committee report in March 2016.
MARB's impartiality is dented if it seeks directions from the commission or government, more so as penalties on non-compliance on educational standards are monetary and regulation of fee structure of up to 40% of seats in private institutes is under its domain.
When Parliament debates the implementation of the NMC Bill in this winter session, one hopes they would consider these points for the larger good of the medical sector, society and the country. The best ideas should emerge after a proper debate, for the good of medical education at large.
On the other hand, medical professionals need to give a commitment to abide by regulation and assure a sense of duty and responsibility. Healthcare should not be treated as any other industry but as a unique compassionate and dutysensitive service provider.
Lastly, it would be hard for NMC or any such initiative to succeed till the common man 'gives the doctor his worth' and puts him on a higher pedestal. After all, society does need good doctors!