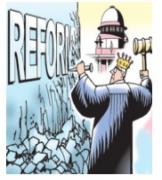 India must ready for a future where more literacy will mean more litigation
If the logjam in Indian courts is terrible today, it's only going to get worse tomorrow ­ unless major course correction is undertaken with urgency. Chief Justice of India T S Thakur pointed out this Sunday that per capita litigation is dependent on literacy and prosperity. As the country succeeds in increasing literacy and prosperity, the courts' caseloads will rise. To the extent that infrastructure deficiencies are to blame, there's consensus that more courts and more judges are key to solving the problem of delay in the Indian judicial system. But the manner in which courts work and judges are appointed is also crying for reform.
Last October the apex court struck down the National Judicial Appointments Commission, envisaged by Parliament as a broader Appointments Commission, envisaged by Parliament as a broader panel to choose judges, and upheld the exclusive authority of the collegium of judges to select higher judiciary candidates. At the same time, all five ruling judges found faults with the collegium. And now a member of the collegium itself has called for changing its opaque ways ­ Justice J Chelameswar has reminded all that judicial accountability is the best guarantee of judicial independence.
Many other doable reforms can help eliminate the pendency problem. For example, in the UK and Singapore the specification of time limits has minimised judicial delays. Indian courts need to likewise get out of the "tareekh pe tareekh" trap of endless adjournments. Another sensible measure is to discourage frivolous cases alongside the appeals clogging up our higher courts.To illustrate, while the US Supreme Court admits around 1% of all cases filed before it for hearing, a recent study found that its Indian counterpart admits 41%. Does the highest constitutional court of India really need to opine on wife swap among naval officers and culling of dogs in Kerala?
But the most urgent task is to resolve the Memorandum of Procedure for appointment and transfer of judges, where an eyeball to eyeball confrontation between government and the collegium has worsened the legal logjam. High court vacancies are now north of 40%.If government's suggestions have been unacceptable, the collegium should itself propose reforms as even the bench that rejected NJAC noted reforms are needed. A great signal of increasing transparency would be making future positions on the MoP public. Judicial reform is now as vital as economic reform to secure India's future.