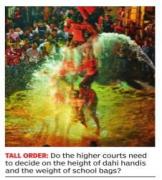 In April this year, the Chief Justice of India shed a tear. Photographs taken at a joint conference of chief ministers and chief justices of high courts, show CJI T S Thakur wiping his eyes as he beseeched the PM seated nearby to speed up the appointment of judges. His point was well made: of the sanctioned strength, the vacancies of high court judges is 41.3%, in lower courts 22.8%, and in the Supreme Court 16.1%.
There's no doubt that successive governments must take the blame for delaying these appointments, but is the judiciary itself completely blameless for the increasing backlog of cases in our courts? Last year, the Supreme Court shot down the National Judicial Appointments Commission, a bill which was unanimously passed by Parliament and ratified by 20 states. The Court, instead, reverted to the collegium system whereby only senior judges of the Supreme Court decide on judicial appointments. Put bluntly , the judiciary was guarding its own turf. This, in spite of the fact that the collegium system has been shown to have its faults: there was the appointment of Justice P D Dinakaran to the Supreme Court despite a record described as "severely blemished"; more recently , Justice Chelameswar, a member of the collegium himself, has openly questioned its lack of transparency .
The judiciary , however, has no qualms about treading with heavy feet on the turf of the legislature and executive, particularly the latter. All of us know that more often than not, governance in our country manifests itself by its absence, but does that give the judiciary the licence to usurp a government's powers? There are countless examples; a few, picked at random, are here. The Supreme Court recently cancelled the West Bengal government's acquisition of land at Singur on the grounds that it was not for a `public purpose'. Isn't industrial development a public purpose? And isn't land acquisition at a fair price, a government's prerogative? Then a few days ago, a holiday bench of the Bombay High Court allowed some residents of a Mumbai building to slaughter goats on the terrace during Bakri Eid. A bench of the high court to decide on a municipal matter? What were the finer points of law involved? Of a similar nature was a Supreme Court order, yes an SC order no less, dictating the maximum permissible height of dahi handi pyramids which are a huge feature of Janmasthami celebrations in Maharashtra. Are we missing some subtle legal angle here?
Of a more serious nature are some other court intrusions. The Supreme Court's decision to arbitrarily ban diesel SUVs in Delhi was clear interference in industrial policy. There were severe repercussions on the balance sheets of car manufacturers as well as the credibility of the government. Less weightily , a division bench of the Bombay High Court recently passed orders on the maximum weight of school bags and allowing students to carry water bottles to school.Speaking of water, there was the order shifting T20 World Cup matches outside Ma harashtra because too much wa ter was being used for the grounds. How is it that faced with an almost insurmountable back log of cases (nearly 63,000 in the Supreme Court, 39 lakh in high court, over three crore in lower courts), our judges have time to take up matters which have noth ing to do with the law?
Shouldn't CJI Thakur also look at the way cases are conducted in our courts? Why are adjournments the rule rather than exceptions? If there is concern for litigants, why make them trudge to court again and again with no hearing taking place? In 1973, a certain Ranvir Singh Yadav worked with the Delhi Transport Corporation as a conductor. He is said to have charged a passenger 15 paise for a 10 paise ticket. For pocketing that 5 paise, he was sacked. The `case' has dragged on for over 40 years and has gone all the way to the high court! Even sadder is the matter of two women in UP who were allegedly raped 27 years ago. Their case has meandered through the courts -in the meantime, one of the accused and one of the victims has died. Are the courts, which jump in to give quick judgements in cases like dahi handi, so incapable of quick action in instances like the ones mentioned here?
Shedding a tear is not going to make the backlog go away . A systemic change is needed: more ruthlessness in taking up PILs only if they deal with questions of law, time-bound and quick disposal of cases, plus a less rigid stand in judicial appointments. Only then will our wheels of justice begin to creak into motion .