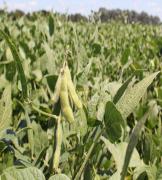 'It's like moving the cursor in a word processor to a particular location, making a small change to text'
In a few years, you could be eating the next generation of genetically altered foods — potatoes that do not turn brown or soybeans with a healthier mix of fatty acids.
And you may have no idea that something is different, because there may be no mention on the labeling even after a law passed by Congress last year to disclose genetically modified ingredients takes effect.
A new generation of crops known as gene-edited rather than genetically modified is coming to the market. Created through new tools that snip and tweak DNA at precise locations, they, at least for now, largely fall outside of current regulations.
Unlike older methods of engineering genes, these techniques, like Crispr, so far have generally not been used to add genes from other organisms into the plants.
The USA Agriculture Department has asked companies to advise it of their plans. But once the companies submit data to show the agency that the gene edits do not introduce foreign genes from plant pests into the crops, the agency is giving businesses the green light.
Hundreds of acres of gene-edited crops have already been grown in several states, unencumbered by oversight or regulations. And a few people have eaten them already. "This is not Frankenfood," said André Choulika, chief executive of Cellectis, one of the companies developing gene-edited crops. Calyxt, a subsidiary of Cellectis doing the gene-edited food, is also developing new versions of wheat including one with greater resistance to fungal diseases, another lower in carbohydrates and higher in dietary fibers Other companies also developing gene-edited crops including DuPont Pioneer, which has used the technology for a new variety of waxy corn, used most commonly not for food but for starch in adhesives. Scientists at Pennsylvania State University have used Crispr to create mushrooms that do not turn brown as quickly.
The current regulations were written for the earlier generation of genetically modified organisms, where scientists used bacteria and viruses — typically from plant pests — to drop a payload of new genes into the nuclei of the plant cells where they merge with the plant's DNA. That worked, but scientists could not control where the new genes would be inserted, and that led to worries of potentially dangerous genetic disruptions or crossbreeding with non-G.M.O. crops.
    Companies like Calyxt have portrayed gene editing more like moving the cursor in a word processor to a particular location and making a small change to the text.
Other parts of the world are also considering whether to regulate gene-edited foods and how to do so. In Europe, where many countries have banned the cultivation of G.M.O.s, the European Commission has created a scientific panel to study the issue, with debate resuming this year
Instead of using bacteria and viruses to burrow into a cell, gene-editing techniques — Calyxt uses one called Talen — create molecules that act as a template to match a specific segment of DNA and then make a cut there.
For the Calyxt soybeans, for example, the only change was to turn off two genes. "There is nothing taken out or added to the plant," Dr. Choulika said. "It's what nature would have produced."
Those edits change the mix of fatty acids and perhaps make for a better cooking oil. "Better than olive oil," Dr. Choulika said.
Gene editing is not being used only with plants. A Minnesota company, Recombinetics, is editing the genes of farm animals — for example, creating cattle without horns.
Critics warned that the industry was repeating the same mistakes of G.M.O.s.
"We've never been against any of this technology," said Michael K. Hansen, a senior staff scientist at Consumers Union. "We don't say it's inherently bad or these crops are inherently dangers. It's just they raise safety issues, and there should be required safety assessments."
While the gene-editing templates match a specific sequence, it is possible that the same sequence occurs elsewhere in the genome or they will match similar sequences, and the DNA will be sliced in those places, too, with unknown consequences. "They make it sound very exact," Dr. Hansen said. "It will have off-target effects."