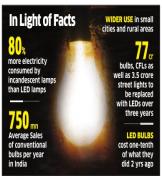 ?Gradual bans likely on sale of the iconic lamps amid thrust towards energy efficient lights
The government plans to phase out the iconic incandescent bulbs by 2020, putting gradual bans on production and sale starting with high voltage lamps, and encourage consumers to use energy efficient alternatives, an official said
Incandescent lamps consume 80% more electricity than LED lamps, but are widely used in smaller cities and rural areas because they cost much less.
"The penetration of incandescent lamps in non-urban areas of the country is far more than CFLs and LEDs. Though these lamps guzzle a lot of electricity, they have high acceptance in villages because of their prices," a senior government official said.
A 60 watt incandescent lamp costs `10 per piece, while CFL lamps start at `90-100 per piece.
Elcoma, a lighting manufacturers' association, said the industry is willing to cut production of incandescent lamps and shift to LED lamps.
Market prices of highly energy efficient LED lamps in India have nosedived by almost three times on the back of a government mass distribution scheme to be at par with CFL lamps. This has impacted sales of CFL bulbs, but a majority of households still use incandescent bulbs. In 2015, CFL production was at 394 million, down from a peak of 450 million in 2013.Average sales of incandescent lamps, however, is holding steady at about 750 million a year.
Prices of LED bulbs being dis tributed under the Ujala scheme run by state-run Energy Efficient Services Ltd (EESL) have crashed to `38 for a 9 watt lamp, one-tenth of its prices two years ago.
The government expects to save 85 lakh kWh electricity consumption every day or 15,000 tonnes of CO2 by replacing 77 crore conventional bulbs and CFLs as well as 3.5 crore street lights with LEDs over three years. The energy con servation programme gels well with the country's stand on lower greenhouse emissions ahead of the Paris convention.
Shyam Sujan, secretary general at Elcoma, said, "Indian lighting industry is proactive in shifting to energy efficient products." He said companies had to lower prices of LED lamps owing to pressure from the Ujala scheme.
While EESL is close to touching sales of 200 million LED lamps, the industry is expected to have sold over 260 million LED lamps.
Sujan said filament LED lamps are being touted as the closest alternative to incandescent lamps. Filament lamps produce light with an LED that is shaped to look like filament of an incandescent bulb. However, since they are not being produced in India presently, they cost as high as `150 apiece.
Prices of LED bulbs distributed by state-run Energy Efficient Services Ltd have crashed to Rs.38 for a 9 watt lamp